UM Now | Faculty of Regulation
2 min read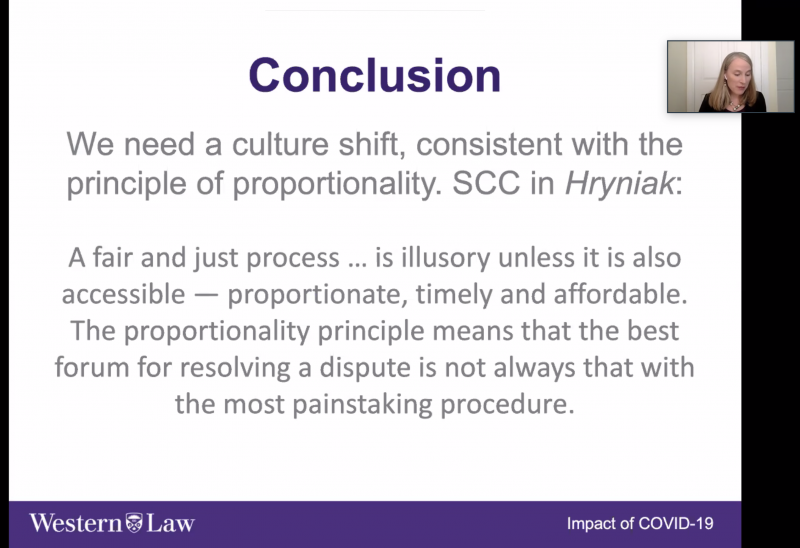 Oct 2, 2020 — 
The School of Law's yearly Distinguished Website visitors Lecture Sequence is forging forward this calendar year, relocating on the net with virtual talks provided by renowned legal students. This 7 days, the sequence kicked off with a chat by Western Law's Assistant Professor Suzanne Chiodo who spoke on "Six Months in a Pandemic: The Influence of COVID-19 on the Civil Justice System in Ontario".
Chiodo is at present looking into the modernization and digitization of court treatments in Ontario, as effectively as on the web courts in standard.
She started her discuss by setting the scene of what the courtroom process was like pre-pandemic. Delays in Ontario's Civil Court procedure experienced by now gone up by about 37% about the past 4 a long time, and accessibility to the courts was not excellent with close to 64% of Family litigants symbolizing on their own.*
"It was a dismal image to start out with," mentioned Chiodo.
When the pandemic hit in March, 2020, changes had to be executed that integrated remote hearings, CaseLines circumstance administration systems, and On the web Portals for submitting paperwork. E-submitting and e-scheduling was commenced up so that functions could obtain documents remotely in a type of "poor-man's Canlii" Chiodo claimed, referring to the Canadian Legal Data Institute that includes all Canadian regulations and court choices on the net.
To determine how powerful these adjustments had been, Chiodo did a evaluation working with Canlii and identified that at the start of the pandemic in March, there had been about a 45% reduction in hearings, but Spouse and children Courtroom hearings amplified by more than 100%.* This was since when people ended up ordered to continue to be residence, split people turned to the courts for enable with settling urgent issues of how to control distinct custody predicaments. "No one understood what to do," said Chiodo.
She concluded that there has been a need for a society change to be certain the proper carrying out of courtroom proceedings and justice during this pandemic, and that we just can't count on to continue to have a day in court docket for every single litigant. The fact is that we want to "ration" justice for the reason that the court has this kind of minimal sources in time, income and human electric power. Chiodo pointed to the SCC decision in Hryniak that set out a Proportionality Principal.
This tradition change, Chiodo reported, "means additional than changing a several policies. It calls for switching an whole way of thinking."
If anything excellent is to appear from the COVID-19 pandemic, it could effectively be an strengthening of the court procedure to strengthen access to justice and effectiveness, lowering delays, and lowering expenditures.
*Remember to be aware the numbers cited in this presentation are not remaining.